Quote bank
This is a collection of quotes by third parties about our work, started in July 2018. It may be updated from time to time.
About Mark's work as chair of the IP Law Committee of the Law Society
On his retirement as chair of the IPLC, Mark was very touched to receive a poster of quotes about him, contributed by the other members of the committee. A photo of the poster appears below.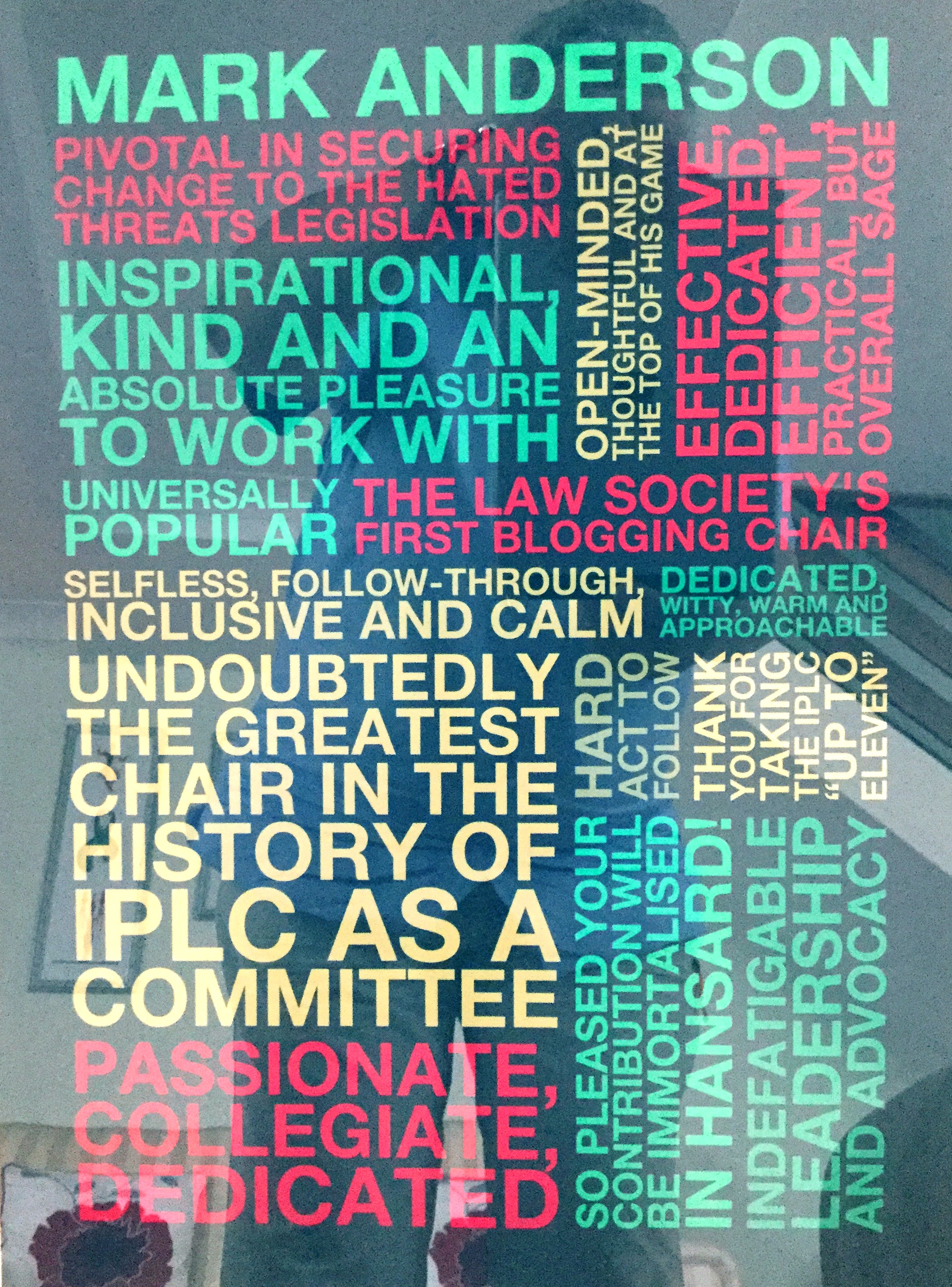 About our books
Our books have been reviewed many times. Some representative quotes appear below.
On Technology Transfer, Rosemary Boyle, a solicitor at the University of Cambridge, reviewing the 2nd edition in the Cambridge Law Journal, wrote: "It is a remarkable achievement to have brought together so many different strands [of law affecting technology transfer] and sought to provide a coherent guide through the maze. …The book and CD-ROM together form an important tool in the armoury of any lawyer practising in this area."
On A-Z Guide to Boilerplate and Commercial Clauses, HH Humphrey Lloyd QC, a former judge of the Technology and Construction Court, reviewing the 2nd edition in the International Construction Law Review, wrote: "The work's strength lies in two main features. First …it provides guidance by reference to numerous cases (some of which might well have been overlooked) for the purposes of assisting someone to draft a contract effectively. Secondly, it provides 'worked examples'… it is very useful and I hope that it will reach a wider audience."
On Drafting Agreements in the Biotechnology and Pharmaceutical Industries, Trevor Cook, for many years a senior IP partner at Bird & Bird, reviewing the book in OUP's Journal of Intellectual Property Law and Practice, wrote: "[T]his is a book that can thoroughly be recommended for anyone who is drafting or negotiating agreements in Europe in the pharmaceutical and biotechnology sectors… One can have every confidence in the drafting, edited as the book is by Mark Anderson, whose area of speciality this is, and who has already written a number of valuable books on technology licensing."
Student feedback (2018) on our 5-day course at UCL on IP Transactions
"Fantastic course. The only course of this type – truly transactional law and practice. Genuine speakers who are still currently practising. Really enjoyed it. Well done, Mark and Sir Robin!"
"Congratulations on running an excellent course, Mark. I thought you, and all of the guest lecturers, performed to a very high level. The quality of the materials was very impressive so thanks to everyone in support."
About our legal services
We make submissions to two legal directories, whose recommendations we consider worthy of consideration, namely Chambers Directory, and the specialist patent guide, IAMPatent 1000. (There are many others that we don't think worthwhile, though we are recommended by several of them.)
IAM Patent 1000, 2018
"Anderson law provides excellent support on contractual arrangements with third parties, including licence and shareholder agreements and consultancy and revenue-sharing contracts. Its service is very professional, with clear, prompt responses to all enquiries and excellent knowledge not only of the legal issues but also of the long-term commercial implications actions might have." Name partner Mark Anderson is the go-to lawyer for entrepreneurs, start-ups, research institutes and private companies in the United Kingdom seeking top-notch transactional support. "A real thought leader," he has three decades' experience under his belt. His teammate Lisa Allebone has her fair share of fans; a seasoned pro at setting up spin-out companies for universities, life sciences is her favourite technological space."
Chambers UK Directory, 2018
Mark Anderson is celebrated for his talents and experience with regard to the commercialisation of new technology, particularly in the field of life sciences. Clients say: "He is very personable, very knowledgeable, and he understands not only the law but the commercial implications."
Stephen Brett represents university hospitals, research institutions and their technology transfer arms on licensing and collaboration agreements of all stripes. A client says: "Stephen knows what I need and don't need, and gets the job done in the way I need it done."
Paul Maclennan advises universities and technology companies large and small on the commercialisation of their IP assets.
Lisa Allebone advises universities and life sciences companies on all facets of licensing and collaboration arrangements. Market sources attest to her "remarkable insight and legal ability."